End of Lease Cleaning Checklist:
A list of things needs to be done in Vacate Cleaning
It is the most important list to check. Different people have their own requirements and preferences. Most of the landlord and renting agents have their general end of lease cleaning checklist. They must check few things before they release Tenant's bond. Some times, landlord provides a list. Even though rental agents/ landlord don't provide the list, they check basic vacate cleaning checklist.

End of Lease Cleaning General Checklist:
Wipe all windowsills and remove Dust.
Clean windows from inside in all rooms
Wipe down dust throughout all skirting boards
Vacuum and mop throughout your house
Mirrors and wardrobe doors Cleaning
Spot cleaning of walls
Dusting on Blinds
Dusting light fittings
Remove dust from furnished surfaces
Cupboards cleaning from inside and outside
Remove cobwebs
Carpet steam cleaning
End of Lease Cleaning Kitchen Checklist:
Wipe down bench top, cupboards and drawers (inside and outside)
Clean range hood, stove top and oven (inside and outside)
Clean splash back
Sink Cleaning
Clean appliances from outside
Cupboards from inside and outside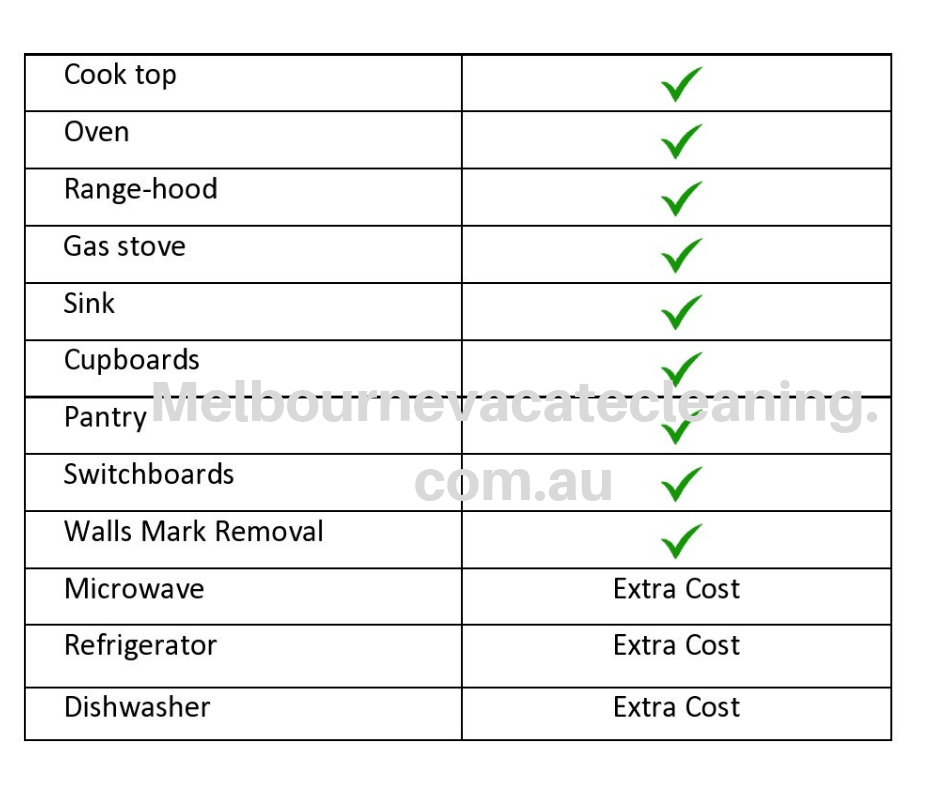 End of Lease Cleaning Bathroom/ Laundry Checklist:
Entire Bathroom clean
Clean shower
Clean mirrors
Clean sink & taps
Vacuuming & mopping on the floors
Scrub bathroom tiles if necessary
Clean cupboards from inside and outside
Clean & disinfect toilet from bacteria
Clean bathtub
Extra additional cost service:
Clean windows from outside
Garage
Balcony
Appliances (Fridge, microwave, dishwasher & washing machine)
Outside patio cleaning
Detailed blinds clean with proper chemicals
Bond Back Cleaning Guarantee:

We provide 100% Bond back cleaning guarantee. It means that we're responsible for cleaning service within a 7 days. If your agent/landlord won't happy with the cleaning then we'll come back. Our staff will clean it for you without any extra cost within a 7 days. 
Our Service Include:
Bedrooms
Dining Room
Laundry Room
Kitchen
Bathrooms
Toilets
Bedrooms

Dining Room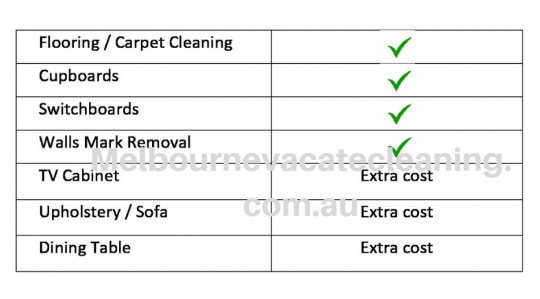 Extra Vacate cleaning Services – Entire house
We believe in customer service. If you have the checklist from your landlord or rental agents then provide us at the time of booking. We'll take care of your end of lease cleaning checklist. We'll ensure that the vacate cleaning help you to get 100% of your bond money.